Four Steps To Care For Your Luxury Watch or Chronograph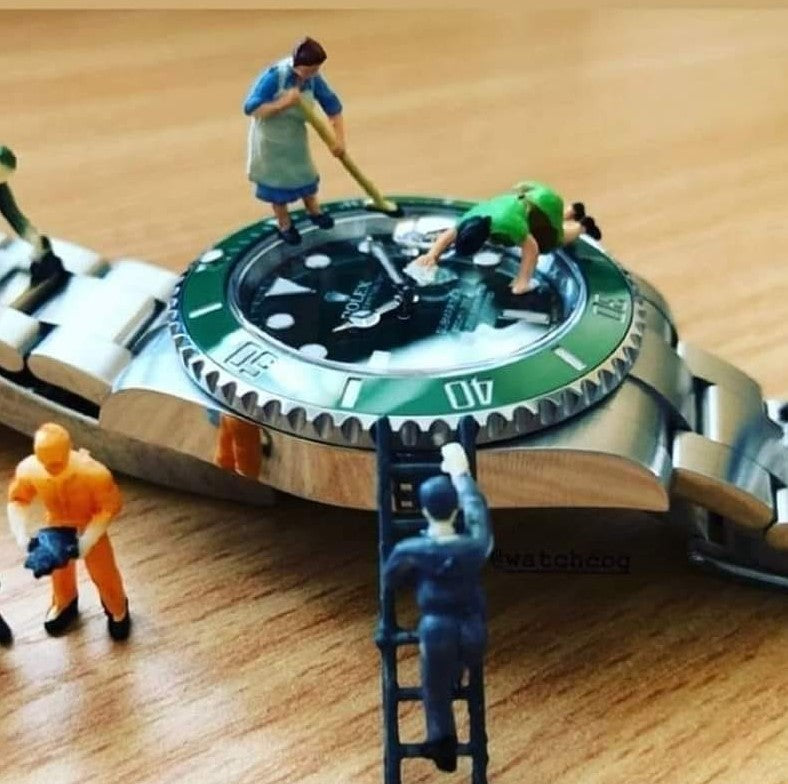 Rolex Submariner Ceramic Black Dial Cerachrom Bezel Stainless Steel Mens Watch
Luxury watches and chronographs, particularly Swiss-made mechanical ones, are designed and built to last. That is why many people think of the purchase of a luxury watch as an investment. If taken care of correctly, a luxury watch can deliver a lifetime of value and enjoyment. Taking care of your luxury watch or chronograph to keep it in top condition is not difficult. It just requires some basic common sense and a little effort.
Follow these four steps below and you will be able to thoroughly enjoy the experience of owning a high-end timepiece for many years to come.
1 
Read the Instructions
Understanding how your watch works are critical to avoid accidentally damaging it. As a general rule of thumb, the more complicated the watch is, the more delicate the movement inside is. It is important to know what you're doing. Our expert staff at Golden Anvil Jewelers will be more than happy to show you how to set the time, as well as adjust the day/date and any other functions it might have.
2 
Keep it Running
If your luxury watch is battery-powered or quartz movement, you can skip this step.
If it is a mechanical type, however, with manual or automatic winding, then you do need to follow this step. That is because there are a lot of moving parts in a mechanical watch movement and if they stay stopped for too long, the lubrication that helps the gears run smoothly can begin to lose viscosity. This can cause unwanted friction, which will not only affect the watch's performance but may also lead to major damage.
If you own a manually wound watch, it's a good idea to get into the habit of winding it daily. Be gentle and stop winding as soon as you feel any sort of resistance from the crown as you don't want to damage the stem by applying too much force. It's best to do this with the watch in your hands, as opposed to on your wrist.
For an automatic watch, it's just as important to keep the movement running regularly. This type of movement is equipped with an internally rotating device that generates kinetic energy when you move your wrist, which is stored as power for later use. Most modern automatic movements have a power reserve of at least 42–48 hours. If the watch is not being worn or placed in a winder, an automatic watch will still need winding.
3  
Clean Your Watch Often
 If you wear your watch every day, it's going to get exposed to a lot of dirt and dust. There's nothing you can really do about this, so the next best thing is to give it a regular cleaning. Use a lint-free cloth to help prevent any build-up of grime. Pay particular attention to where the case meets the bezel, between the links on the bracelet, and all around the crystal.
4  
Have it Serviced Regularly
Regular servicing of your watch is essential to keep it in perfect running condition. Depending on the model, you may need to have your luxury watch serviced more or less often, but generally speaking, every 2-3 years is a good rule to follow. This ensures that the parts remain lubricated, the accuracy of the watch stays within tolerance and the waterproofing seals are checked and replaced to maintain the watch's water resistance rating. Failure to service your watch regularly could lead to damage that may be irreversible or at the very least, a very costly repair or overhaul. 
Follow these helpful tips and use common sense. There is no reason why you shouldn't enjoy every day wearing your luxury watch.
For more information on watch servicing and repairs please contact us or visit our Golden Anvil Jewelers team of experts in our showroom.