What to Look For When Buying Wedding Jewelry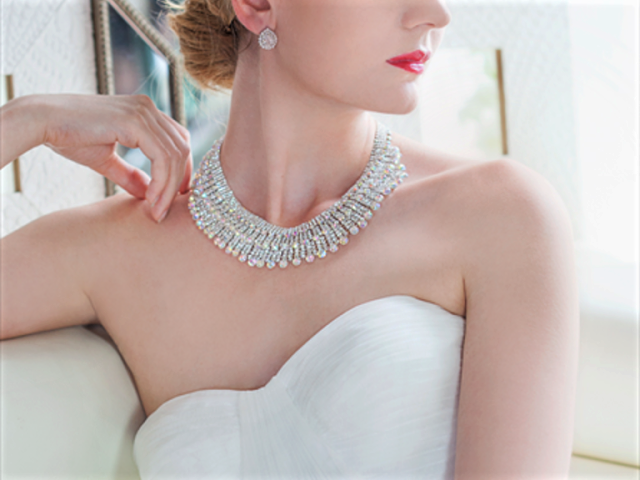 Your wedding is the time when you want the best in everything. Your next step after deciding your wedding dress is about deciding upon your wedding jewelry. Picking the perfect accessories for your special day can be a daunting task. You have to be extra conscious while selecting the jewelry for your big day!
Adam Binder of Golden Anvil Jewelers has composed a checklist below to be taken into consideration before selecting your wedding jewelry
[ ]  Choose Your Metals Carefully
You may not understand this, but a few metals look better with certain dress colors. When in doubt, ivory is best matched with yellow gold since it highlights the velvety tint of the cloth. If you have selected a white dress then yellow gold may not be a good option as it would clash with the white color. You can select white gold, silver, platinum, or pearl jewelry and it will compliment your white dress. If your dress already has a pearl sequins then your accessories should match with that too.
[ ] Keep in mind: Less Is More 
What you need to understand is you do need everything from a necklace, earrings, tiara, and a band. You should know that accessories only add a unique touch to your look however excess of everything is bad. Make it simple and elegant. Before you begin purchasing, keep in mind the exact picture of your dress but do not go for excessive matching in everything.
[ ] Finish It Off
Veil or no veil? You can get a lot of different approaches to finishing off your look. Pick your haircut before you pick your accessory, consider your hair type before buying any hair accessory. A flower crown also is a good option to try with loose locks. The important thing which you need to remind yourself is you should feel confident and accessories feel locked and stable while you're moving around.
[ ] Stay in tune with what you know
Despite the fact that it's an exceptional day, don't stray too far away from your typical style. If you once in a while wear gems, there's no compelling reason to suffocate yourself in precious stones on your big day. The objective is to look best and elegant on the memorable day of your life.
Golden Anvil Jewelers have over 40 years in the jewelry business and have a vast collection of fine wedding jewelry.
According to Adam, jewelry adds a unique style to your personality. When it comes to selecting your wedding jewelry, you should take into consideration these basic points above, to make your day an unforgettable experience for the rest of your life.