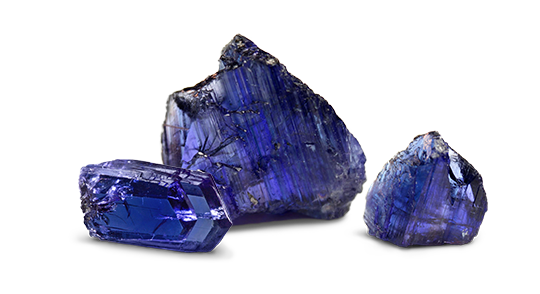 Winter is coming.  As the days grow shorter, and the skies begin to dim, the beautiful purple and blue hues of twilight, blanket the world.
Captured within this gem, these cool colors sparkle in Tanzanite jewelry. Discovered over fifty years ago, and solely found in one tiny space of the world, Tanzanite has quickly become one of the foremost well-liked and most desired gems of recent times. Named the new birthstone of December, Tanzanite jewelry may be a stylish and unique choice as a gift, or for yourself.
14kt Two Tone Yellow & White Gold 3 Stone Tanzanite and Diamond Ring
Tanzanite is now the most popular gemstone after the "big four," which consists of diamonds, emeralds, rubies, and sapphires. Tanzanite was discovered in 1967 within the foothills of Mount Kilimanjaro in Tanzania. Bluish violet in hue, it belongs to the zoisite mineral group and is considered the second most sought-after blue gem, after Sapphire.
14kt White Gold Tanzanite Diamond Halo Earrings
This rare gem is the birthstone for December and the stone for a 24th wedding anniversary. Tanzanite exhibits a hardness of 6 to 7 on the Mohs scale (Diamond hardness is 10 for reference). Despite the lower hardness rating, it is often utilized in all kinds of jewelry.
14kt White Gold Tanzanite and Diamond Pendant
This vibrant and mystical gemstone's limited availability has added to its appeal as an heirloom possession, making it a must-have for each discerning jewelry buyer who seeks distinction and rarity. Whether or not it is a ring, earrings, or pendant, you cannot fail with Tanzanite.
Click the link below to browse our current inventory of Tanzanite jewelry